Moringa
The Moringa (Moringa Oleífera Lam) is a tree from India and Pakistan used as food, medicine and energy source. For centuries its growth has extended to many tropical and subtropical regions of the world because of its fast growth (almost 3 meters per year) and its multiple uses.
Surprisingly, all parts of the tree can be utilized and maybe because of this Moringa is also called "Mana" or the "Tree of life".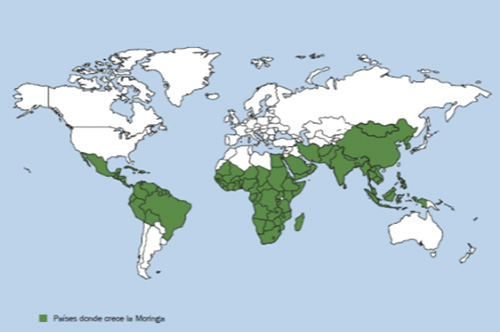 Areas where Moringa growth is possible:
The ITYF has designed the program MORINGA to introduce this plant in our country and to promote its use at the national level for human consumption to help overcome malnutrition in the regions where access to vegetables is difficult, as well as livestock forage because of its extraordinary nutritional characteristics.
The MORINGA program started in 2013 with the germination tests in the Majes valley (Arequipa) and in Ica, followed by pilot test for growth with sprinkling irrigation (7,161 m2) and drip irrigation (1800 m2). Likewise, once the plants reached the bush level, the nutritional properties of the Moringa leaves cultivated in Peru were determined in collaboration with the National Institute of Health (INS).
Currently, the Faculty of Biological and Agricultural Sciences of the National San Martin University of Arequipa evaluates the nutritional potential of Moringa as livestock forage for cattle, through an agreement with the ITYF.
The Plant
In its natural habitat, Moringa can grow between 0 and 1400 m.a.s.l., it does not tolerate freezing, it grows in flooded sandy land or well drained land with a pH between 5.5 and 7.5, and it requires 300 mm/year of water, which makes the Moringa suitable for the entire Peruvian coast.
The flowers are bisexual, with white petals and yellow stamen, pollinized by bees, they blossom once a year, but they can blossom twice a year if there are changes in temperature like in our coastal region.
The fruit is a linear green capsule with three faces presenting longitudinal grooves 20 to 55 cm long.
The seeds are dark brown, globular measuring 1cm in diameter with wings with the consistency of papyrus.
Uses
The uses of the Moringa plant are many: the Stem is used as wood for its high caloric power (4.600Kcal/kg), to fabricate paper, glue or tannin and to extract a violet tincture as well as to fabricate cords, mats and doormats.
The leaves are used for direct human, as livestock forage or biogas.
The flowers are used as ornaments as well as for human consumption.
The fruits or pods are used for direct human consumption.
The seeds can be pressed to fabricate oil (valued for human consumption, cosmetics, soaps and lubricants), to obtain biodiesel, in a "cake" as nutrient for birds and livestock, as flocculent for unclean water and as fertilizer. They are also used for direct human consumption boiled or sautéed.
The root is used as spicy condiment.
Part of the plant
Use in direct human consumption
Commercial Uses
Fresh leaves
Salads
Sauces
Livestock forage
Biogas
Dried leaves
Nutrient powder
Nutrient capsules
Livestock forage
Flowers
Salads
Ornamental
Pods
Salads
Cooked in stew
Seeds
Toasted with salt
Cooked in stew
Oil
Cosmethology
Biodiesel
Pod + Seed
Water flocculent
Fertilizer
Stem
Paper pulp
Mats and cords
Violet tincture
Glue
Tannin
Wood
Nutritional qualities of the fresh and dried Moringa leaves
Nutritional Properties of the Moringa Leave
| | Fresh Leaves 100gr. | Dried Leaves 100gr. |
| --- | --- | --- |
| Calories | 92 | 49 |
| Proteins | 6,70g | 6,5g |
| Lipids | 1,7g | 0,55g |
| Carbohydrates | 12,5g | 9,2g |
| Vitamin A | 6,78mg | 4,54mg |
| Vitamin BI | 0,06mg | 0,63mg |
| Vitamin B2 | 0,05mg | 4,92mg |
| Vitamin B3 | 0,8mg | 1,97mg |
| Vitamin C | 220mg | 4,15mg |
| Calcium | 440mg | 480,72mg |
| Iron | 0,85mg | 6,77mg |
| Magnesium | 42mg | 88,32mg |
| Zinc | 016mg | 0,79mg |
Source: National Institute of Health of Peru