Jóvenes en Acción
Youth in Action ("Jovenes en Accion") is a program for orientation and social development for the youth in educational centers around the city of Lima that took place between the years 2002-2006.
This program had the objective of diminishing the risk conduct related young violence in the population of 5 educational high school units in Metropolitan Lima.
The ITYF developed training for teachers, parents and students about the strategies related to 6 focal thematics: self-esteem, personal identity, moral conduct and values, assertive communication, conflict resolution, life plan, personal goals and sexual education.
The results were visible in respect to decrease of violent conduct, improvement of attitudes towards autonomic and personal development, as well as a substantial increase in the scholar achievements.
Ricardo Palma High School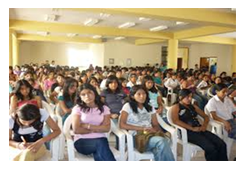 Daniel Alcides Carrión High School
Los Jazmines del Naranjal High School